We're pleased to offer the following services at our wellness clinics located inside Care-A-Lot Pet Supply: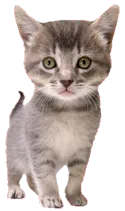 Wellness Packages
See a detailed list of what we offer under "Services & Prices." We are not a full service verterinary hospital. We are limited to well animal visits only.
Appointments
We accept walk-ins any time during our hours of operation! No appointments to keep up with!
At Affordable Veterinary Services of VA, we currently only care for the following types of pets:
Affordable Veterinary Services of VA operates an open hospital. This means that our team welcomes owners to be with their animals during their visit.
Digital Medical Records
We are considered a "paperless" clinic which means all of our medical records are digital. Once you are a client and we have entered your pet and his or her vaccine history into our system, you never need to bring paperwork with you again! We can access your pets' history in our system.
Note: If your pet received vaccines at another facility/clinic, you must bring that paperwork with you. We will get that information updated in our system.
Payments
Affordable Veterinary Services of VA accepts payment via cash, MasterCard, Visa or Discover. So that we can continue to provide you high quality service at a low cost, we require that payment be made at the time services are rendered.
The most important element in determining the quality of pet care is the experience of the veterinary staff. Affordable Veterinary Services of VA employs veterinarians, licensed veterinary technicians, and reception staff who have been in the business of quality pet care for years. We care about your pet!